8 Tips To Make Your Direct Mail Stand Out
Direct mail is often overlooked.
Marketers prefer digital marketing solutions, but direct mail can be much more useful than email.
There is also no reason to use one method exclusively; in fact, combining offline and online direct marketing techniques can improve the response rate of both campaigns.
If you are launching a direct mail campaign, there are ways to optimise results.
Ensure that you have a targeted list of warm leads, provide a compelling and appealing offer, and look for ways to ensure that your campaign material is eye-catching.
You have less than 10 seconds to grab the attention of recipients, so make those seconds count.
Lumpy Envelopes
Lumpy envelopes create intrigue and a degree of suspense.
Recipients want to open the mail to find out what the lump is.
Lumpy envelopes do more than create intrigue; they encourage recipients to open your piece of mail before they open others.
Your marketing message becomes the centre of attention, rather than the latest in a long line of envelopes and letters.
As with all marketing campaigns, the key is to balance cost with effectiveness.
Fortunately, promotional products don't have to cost a lot to be effective.
Some charities have folded collection bags and placed them in envelopes.
Not only are these inexpensive, but they are functional too.
Once folded, these bags take up room and their texture, as well as their bulk, makes them an intriguing proposition to recipients.
The item that you use to create the lump should offer some benefit or purpose.
Otherwise, intrigue will lead to disappointment in the eyes of your target market.
You don't want your business to be associated with disappointing results.
3D Packaging
Lumpy envelopes are one form of 3D mail.
Standard envelopes with a paper letter have length and width, but they have no depth.
Adding depth to your packaging can also add depth to your marketing materials.
3D marketing mail can be as simple as a lumpy envelope.
Alternatively, you can send a box, or even a tube or be creative with bottles and other items.
When considering 3D packaging, remember that the cost of the packaging itself is likely to be higher than a standard envelope.
The cost of postage or delivery is also expected to be higher, and you should cost all these elements to ensure that your campaign still comes in within budget.
One way to keep costs down is to ensure that your list of recipients is highly targeted.
This reduces the number of packages that need to be sent and increases the likelihood of a positive response.
Not only does 3D mail create intrigue, but it literally stands out.
Consider that the average recipient is likely to be getting a stack of mail every day.
An envelope will slot neatly into the middle of this pile, often to be overlooked.
Your 3D packaging means that your direct mail will have to be put on top of the collection or carried separately.
3D mail is also memorable.
If you get it right, your mail recipients will not only remember the message themselves, but they will show their family and friends, and colleagues.
They might even share photos and videos of the package on social media and online.
Postcards
Postcards can be impactful, offer a cost-effective alternative to other direct mail campaigns, and they can stand out in the pile of mail that lands on the doorstep in a morning.
Postcard marketing can keep direct mail costs down.
You don't have to buy envelopes or have them filled with your marketing letter and other marketing content.
They are also lighter than many forms of mail, and you can even save on the cost of mailing labels too, having names and addresses printed directly on the postcard itself.
Despite their affordability, there are a lot of marketers and direct mail proponents that prefer the use of postcards over any other style of direct mail.
They are attention-grabbing because your marketing message and creative design are on display immediately.
Recipients do not even need to open an envelope to read your message.
Incorporate Product Samples
Offering free samples to potential customers is certainly not a new tactic, but it remains highly effective: mainly when a person receives a targeted gift in the mail.
Recipients will value any free sample, but it is essential to remember that they will judge the sample.
The quality of the sample needs to be as high as the quality of the product itself, and you need to ensure that you provide an adequate size of the sample.
Recipients will be unable to test the product properly if they are not provided with enough of a sample.
Some care needs to be taken when mailing samples to recipients.
The packaging of the sample itself needs to be robust, and it should be branded the same as your primary products.
While some people will keep the paperwork that accompanied the example, this won't be true in all cases.
Include Something Practical
Include something practical inside your mailer.
Pens are a stock favourite because the recipient is likely to keep hold of the pen, which is decorated with your brand and company details.
Every time they pick up the pen and use it, they will be reminded of your business and your marketing.
They will also associate your business with a practical item that serves a legitimate purpose.
Pens are affordable, especially when bought in bulk, but they are only one option.
Flash drives, rulers, even those handy little screwdriver sets that are typically highly sought-after Christmas cracker gifts: these can all make excellent promotional gifts to include with your marketing mailing.
Free promotional gifts like this are not only great because they enhance your branding awareness, but their inclusion inside direct mail also helps to give texture and provide 3D packaging that will make recipients more inclined to open your letter.
Use Stamps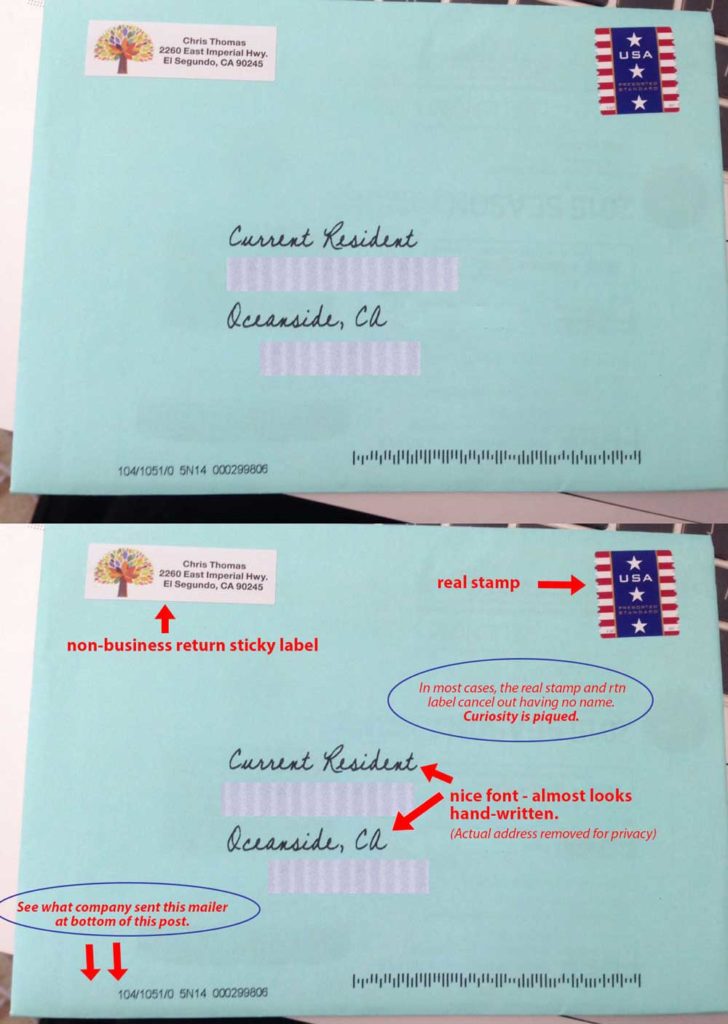 Most direct mail campaigns work very well with pre-printed franking and postage marks, but some recipients will instinctively separate these as being junk or unwanted mail.
Even if they do subsequently open the letter, they have already mentally marked it as being marketing material.
This might be fine if you have an extensive mailing list or are sending your mail out to everybody in a local area, but if you are targeting recipients that you have some degree of a connection with, you will lose the personal touch that would benefit your conversion rates.
If you want to add a personal touch to a very select number of letters, consider handwriting the name and address on the envelope too.
Make It Sensory
One of the reasons that thick envelopes have been shown to increase open and response rates in direct mail is because they appeal to multiple senses.
They draw the recipient in using more than just sight.
There are other ways to activate the senses of your recipients, and using these you can further enhance the results of your mailing campaign.
Scratch and sniff product samples are used frequently by perfume and fragrance companies.
This experiential marketing not only enables recipients to sample the smell of the product, but it also encourages the use of the olfactory senses, which are strongly tied to emotions.
If you want to elicit an emotional response from recipients, this is a powerful way of incorporating it into your marketing campaign.
Offer Something Interactive
Interactivity draws recipients in.
It gets them involved in your marketing campaign and increases the likelihood of getting a response.
Creating interactive direct mail campaigns is also a great way to combine your offline and online advertising while providing a means of monitoring and tracking results from your campaign.
Not all recipients will have QR code readers, but some will.
Embedded personalised URLs are also a practical addition to a paper campaign.
Both techniques allow the recipient to quickly and easily follow a link in your letter and end up on an optimised landing page.
Using a personalised URL also increases the level of personalisation included in your marketing campaign.
When creating landing pages for your QR codes, ensure that you have analytics set up, and use a unique URL so that you can determine precisely how many "clicks" a campaign receives.
You can also use QR codes to split test different marketing techniques and strategies – for example, send out 500 marketing letters with standard printed postage and 500 with physical stamps – see which URL receives the most hits to determine which is the most effective means of postage.
Direct Marketing Results
While much attention is given to email marketing and other forms of digital marketing, direct mail marketing remains a highly effective, cost-effective, and efficient marketing solution.
You need to ensure that you have a high-quality list of highly targeted recipients and that your marketing message is on point.
You should also test different elements of your marketing campaign to ensure the best results.
Monitor results, including any uptick in direct sales that might be a result of your campaign, and continue to optimise and improve.